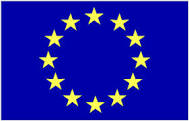 "POSTING OF WORKERS: ENHANCING ADMINISTRATIVE COOPERATION AND ACCESS TO INFORMATION IN THE BALTIC REGION"
IN LATVIA REGIONAL GOVERNMENTS
APRIL - DECEMBER 2014.
VP/2013/008/0037
Several round table discussions in major cities around the country were organized (total number of participants - 129).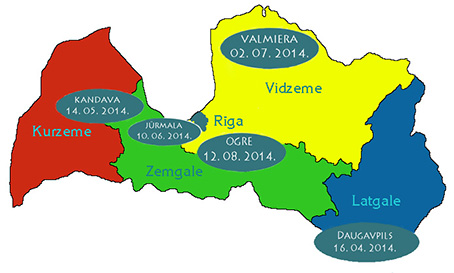 Round tables helped to meet the top important issues of the development of posting workers. It foresaw analysis the European way and apply the agenda to Latvian situation. The reality of posting Latvian local trade union officials were reported. Also discussions with trade unionists and participants with round table meetings permitted in-depth analysis of the impact of European directives on quality of life of posting workers (Jurmala, Valmiera, Ogre). There is no secret that many families split as result, workers abroad suffer from unjust payment systems (Daugavpils, Kandava).
Several topical fields were discussed: Problems occurred of Latvian posted workers. Recent cases where Latvian workers have been underpaid on Swedish, Norwegian, German building sites.
See for information:
http://news.lv/Diena/2010/09/11/Latvijas-celtniekus-ierauj-kampana
http://www.diena.lv/arhivs/arodbiedribas-konflikts-ar-latvijas-uznemumu-izraisa-iekspolitisku-saspilejumu-zviedrija-12233023
http://www.tvnet.lv/zinas/latvija/315588-latviesu_celtnieki_pardodas_zviedru_arodbiedribai
http://financenet.tvnet.lv/zinas/121918-latvijas_buvnieku_asociacija_gatava_versties_pret_zviedru_buvuznemumiem_latvija
http://www.delfi.lv/news/national/politics/apnemas-versties-pret-zviedru-buvniekiem-latvija.d?id=9615887
The management of posted workers in European Union. Posting and social security contributions. Labour migration (especially from Daugavpils region); unemployment and migration / posting of workers. EU safeguards against social dumping; criteria scale of the evaluation of the European social dialogue development quality. European model of social dialogue.
The most important aspect of the round-table gatherings was:
a) Innovative and urgent reference to European Commission's target of strengthening the European Social model and in particular directives of Posting of Workers. Legislative initiatives (2012) and New Directive on posted workers text and EU's reached compromise on the revision of the posted workers directive;
b) Complex analysis of European Model of Social dialogue from posting workers angle, particularly paying attention to processes in the three Baltic states: key criteria and challenges of posting workers concrete situations and development in Latvia were discussed. Alternative growth model was debated.
The most important point - round table results:
a) Strategy development plan for trade union groups to be discussed at LBAS;
b) Corporate study material compendium for regional governments "Posting workers: the management aspects in the European Union";
c) Some round table presentations will be printed in internationally quotable yearly Proceedings of Latvian Christian academy;
d) Round table mini conferences have become a mediator for building up platforms and networks of different specialists to execute analysis and to promote development of the European Social Model. Round tables have become a bridge for the trade unions' dialogue.
There was short resolution on the new policy operational strategy for posting workers in Latvia (in cooperation with (LBAS). All participants of the round tables were encouraged to realize their daily work efforts on key questions for posting workers' quality development to increase capacities of the sector related to social dialogue. The round table deals with questions of comparative layouts of active labour market policy measures and workers posting in this regard.
Press releases were offered. Vice President of LBAS had Radio interview on the State channel Radio-1 at 18.00 - 19.00, May 14, 2014.
Starptautisks bezmaksas seminārs "Norīkotie darbinieki"

14. un 15. Novembrī, 2014.

Aicinām Jūs uz Latvijas Celtnieku arodbiedrības organizētu semināru viesnīcā "Astor Riga Hotel", Zigfrīda Annas Meierovica bulvārī 10. Seminārā plānojam iepazīties ar darba ņēmēja, darba devēja un valsts iestāžu viedokli par darbinieku nosūtīšanu un ar to saistītajām problēmām vai riskiem. Paneļdiskusijas laikā plānots izpētīt nosūtīšanas procesa norisi un izrunāt problēmjautājumus. Seminārā tiks nodrošināta sinhronā tulkošana Latviešu / Angļu valodās.

Dalība seminārā ir bezmaksas.

Semināra programma pieejama šeit.

Free international Seminar "Posted Workers" in November 14-15, 2014.

Welcome to take part in the seminar "Posted Workers" in November 14-15, 2014, in hotel "Astor Riga Hotel" (Zigfrīda Annas Meierovica blvd. 10). Opinions of employers, employees and government institutions will be discussed related to hotly debated problems and risks of posting workers. During the panel discussion the process of posting will be investigated. Translation in English / Latvian is provided.

Participation is free of charge.

The Seminar programme is available here.
International conference
"Free Movement of Services and the Protecting of Worker's Rights"
Latvian Christian academy
5th line 3, Bulduri, Latvia
December 18-19, 2014
Conference programme – click here.
More than 60 participants took part in the conference: perspectives from all three Baltic States were presented by experts. Two workshops were held and challenging discussions followed. Conference participants had main article related to the posting of workers. Registered participants had opportunity to submit questions and cases before the conference.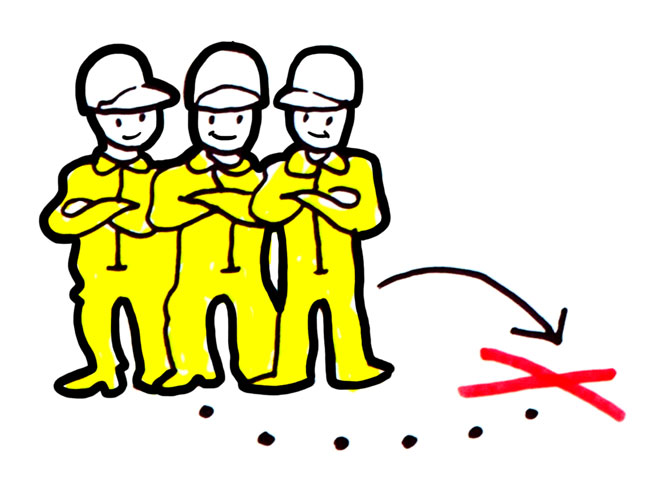 Consultations on important, but different aspects of the posting of workers issues:
Days and topics of consultations.
| | |
| --- | --- |
| 04.04.2014. | Who really is called a posted worker? Terms and conditions of employment. |
| 18.04. 2014. | The fight against undeclared work in Europe. |
| 09.05. 2014. | The right of companies to offer services in another EU member state and to post workers. |
| 16.05. 2014. | Questions / answers: posting of workers – Latvian case. |
| 23.05. 2014. | Increases in value of minimum wage in 2014 – 2015. |
| 06.06. 2014. | Clear rules of cooperation between Latvian national authorities in charge of posting workers. |
| 13.06. 2014. | What is Employment package? |
| 20.06. 2014. | Posting of workers Enforcement directive (2014). |
| 27.06. 2014. | Private questions on topics of posting workers to the popular workers from Latvia to Ireland. |
| 11.07.2014. | Provision from posting workers Directive incorporated into the Labor law in Latvia. |
| 22.08. 2014. | Maximum working time and the problem of minimum rest: case of Latvia. |
| 12.09. 2014. | Business trips and payment for workday in Latvia and other EU member states. |
| 19.09. 2014. | Management of posted workers to EU member states. |
| 10.10. 2014. | Open workshop discussion – brief analysis on protection of employees' rights. |
| 17.10. 2014. | Safeguards against said dumping. Application of posting of workers Directive. |
| 24.10. 2014. | Sectorial development of posted workers in EU today. |
| 14.11. 2014. | Social coordination of posted workers. |
| 28.11. 2014. | Cross-border mobility of workers and social security in the EU. |
| 05.12. 2014. | Fighting against undeclared work. |
| 12.12. 2014. | Working when a person has chronic diseases: case if you are posted: support for workers. |
Registration is open for consultations via e-mail akademija@kra.lv

Please call 29 266 532 or 22 00 88 95 for more detailed information about the topic you are interested in and about experts offering the consultation.

Responsible for the consultation agenda – Guntis Dišlers, LChrA (LV), mobile ph.: 22 00 88 95.

This is the link of Photos, Video Conference and power point presentations of the Introduction Conference at LITHUANIAN PARLIAMENT about Posting of workers and Opening ceremony of the Centre for posted workers.

https://drive.google.com/open?id=0B8DKGoS9PrmlbUZtTjZXUEI3Zms